Broadchurch star Jodie Whittaker was announced as the 13th Doctor by the BBC on Sunday
Doctor Who sprung a major surprise by revealing Broadchurch star Jodie Whittaker will play the 13th Doctor in the iconic sci-fi series.
There had been some media reports on Sunday that Jodie, 35, would be reunited with Broadchurch creator Chris Chibnall, who is the new showrunner for Doctor Who.
And the trailer screened on BBC1 just after Roger Federer won Wimbledon for the eighth time proved those reports were spot on.
Watch the trailer here.
Jodie said: "I'm beyond excited to begin this epic journey – with Chris and with every Whovian on this planet.
"It's more than an honour to play the Doctor. It means remembering everyone I used to be, while stepping forward to embrace everything the Doctor stands for: hope. I can't wait."
Chibnall said the 13th Doctor was always going to be a woman.
He said: "I always knew I wanted the 13th Doctor to be a woman and we're thrilled to have secured our number one choice.
"Her audition for the Doctor simply blew us all away. Jodie is an in-demand, funny, inspiring, super-smart force of nature and will bring loads of wit, strength and warmth to the role. The 13th Doctor is on her way."
Current Doctor Peter Capaldi said: "Anyone who has seen Jodie Whittaker's work will know that she is a wonderful actress of great individuality and charm.
"She has above all the huge heart to play this most special part. She's going to be a fantastic Doctor."
Jodie, who played Beth Latimer, mother of murdered schoolboy Danny in Broadchurch, will take over from the current Time Lord, Peter Capaldi, this Christmas.
Adept at performing as a wide-ranging number of characters, the 35-year-old Yorkshire-born actress has portrayed Anne Hathaway's best friend in One Day, an abused lover in the time-travel film Harmony and Rupert Everett's dappy blonde secretary in both St Trinian's films.
Born in June 1982 in Huddersfield, Jodie dreamed of becoming an actress as a teenager. After leaving school at 16, she completed a Btec in performing arts before attending Guildhall School of Music and Drama, where she was joined by Hayley Atwell and Michelle Dockery.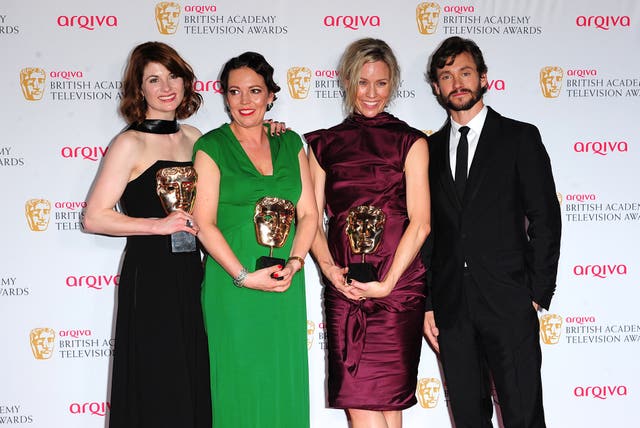 She also met her husband, American actor Christian Contreras, at Guildhall. They married in 2008 and welcomed their first child in 2015.
A keen footballer and squash player as a youngster, Jodie is a huge cricket fan and her father was formerly president of Huddersfield Cricket League.
She left drama school in 2005 for a part in Storm at Shakespeare's Globe theatre, and subsequently won her first film role in Venus (2006) alongside Peter O'Toole.
She appeared in St Trinian's with close friend Gemma Arterton and in Good alongside Lord Of The Rings star Viggo Mortensen before landing the break-out role of Beth Latimer in Broadchurch.
Not one to flaunt her fame, Jodie has previously spoken of her happiness of having a 'chameleon face' as it means she is rarely recognised in the street. However, after taking on one of TV's biggest roles, the 13th incarnation of the Time Lord should be prepared for that all to change.
The actress has most recently finished shooting Paddy Considine's Journeyman, as well as new BBC drama series Trust Me.