He keeps everyone guessing as to his Strictly Come Dancing future
Strictly Come Dancing professional Anton Du Beke has kept up the guesswork as to whether or not he will return to the BBC1 dancing show.
Speculation about his future on the show has been rife following Brendan Cole's revelation last week that he would not be returning after the BBC failed to renew his contract.
The 51-year-old – who along with Brendan is the only remaining original member of the professional line-up since the show's inception in 2004 – told ITV's Lorraine: "Well we don't really know what's going on because… it sounds so disingenuous because I'm not trying to do that… the way it works is that they call everybody at the same time, and then the discussions start.
"The one thing you do know is whether you are not going to be asked to come back, and that's the phonecall you dread, you never want."
Anton, who has competed in all 15 series of the popular BBC1 dancing series but has failed to win the Glitterball trophy, said he was "stunned" and "heartbroken" at news of Brendans departure.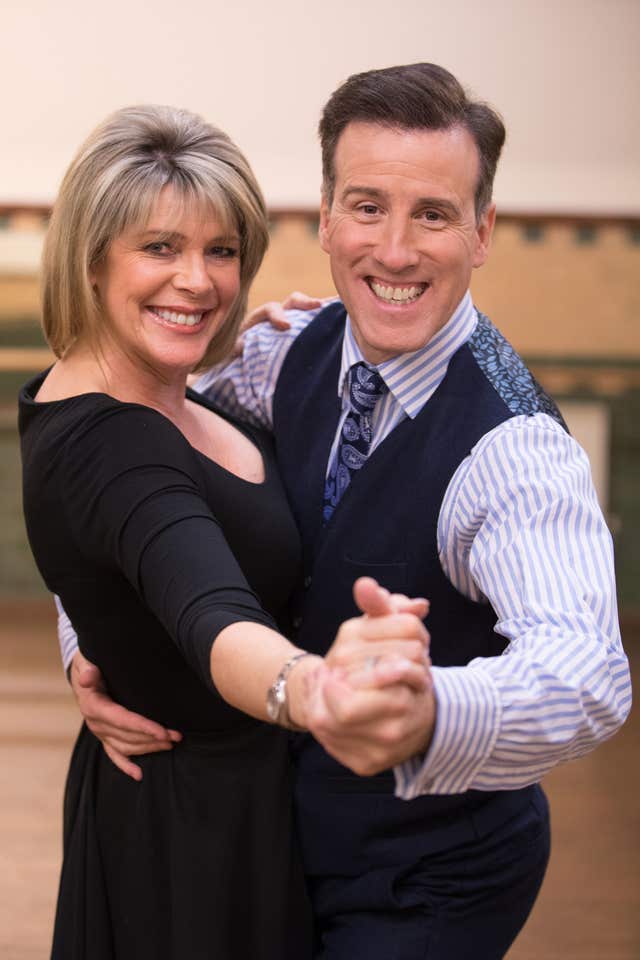 He told Lorraine: "I was watching the show (Lorraine) actually at home and it was one of the saddest things I've watched on TV, I was heartbroken for him – and for me – because I'm going to miss him enormously.
"There's something about being with Brendan on the show and having been there since the beginning, (there's) only a few of us left… that being together on the show, as well was lovely for me, you've got a sort of brother-in-arms sort of thing.
"Also, it didn't matter how bad I was, I could never be quite as bad or naughty as Brendan. And that was part of the character and part of the fun with Brendan".
During the last series Brendan notoriously clashed with new head judge Shirley Ballas on a few occasions.
Asked by Lorraine if Brendan's exit had made him and the other dancers feel they had to "mind their Ps and Qs more", Anton said: "I don't think that was anything to do with it. I'm sure, as Brendan said last week, it was an editorial thing.
"It's the same every year really… when you come to the end of a run and they want to renew the contract, or re-hire the dancers, the judges, whoever it is, with us it's a year by year thing."
A BBC spokesman told the Press Association: "Strictly Come Dancing returns later in the year and the professional dancer line-up will be revealed in due course."
During last year's Strictly series Anton was partnered with This Morning presenter Ruth Langsford.
The pair were the seventh couple to leave the show just a week before the prestigious Blackpool performance, after losing out in a dance-off against Paralympian Jonnie Peacock and his partner Oti Mabuse.
A highlight from their 2017 turn on the show was the ending of their Paso Doble, which saw them fall over when they lost their footing.
He fell backwards, and Ruth then proceeded to clamber on top of him.
Talking about the comedic moment after their exit on ITV's Loose Women, Ruth said: "I was trying to cover his embarrassment that he was the professional dancer that had fallen and not me. I thought 'I will just get on top and just cover him so that he won't be embarrassed'."
Anton commented: "It was a beautiful moment, I loved it."
Last year he released his first music album titled From The Top, which featured covers of classic hits Me And My Shadow and Putting On The Ritz as well as contemporary tracks City Of Stars from the film La La Land and Arctic Monkeys' I Bet You Look Good On The Dancefloor.
He and his wife Hannah Summers also became parents to twins last year.
He announced the happy news about his babies on Instagram, posting a picture of two tiny pairs of ribboned booties with his signature stage top hat and cane.
"Oh my! The little dancing feet have arrived. Mum and twins are perfect and dad is ridiculously excited!." he wrote.