"They have George's nose", George Clooney's dad talks about his son's "beautiful" new twins
Proud grandfather Nick Clooney talks to Good Morning Britain about his new baby grandchildren, Ella and Alexander
Earlier this week Hollywood star George Clooney and his wife,  human rights lawyer Amal welcomed their twins  Ella and Alexander into the world.
The couple's spokesperson released a statement on Tuesday confirming the news, saying, "This morning Amal and George welcomed Ella and Alexander Clooney into their lives. Ella, Alexander and Amal are all healthy, happy and doing fine."
But it seems the birth left George feeling particularly wiped out, as the statement finished with the tounge-in-cheek joke that, "George is sedated and should recover in a few days".
And now George's father, Nick Clooney, has spoken to Good Morning Britain about how gorgeous the family's new arrivals are, saying, "They're absolutely beautiful. I'm supposed to be a reporter, therefore observant, but I really don't know how to describe one beautiful baby from another beautiful baby – these are two beautiful babies."
When asked about who the twins looked most like, Nick also said, "Nina (his wife, George's mum) swears they have George's nose. I don't know what that means. She says it's the little boy, that sounds like a grandmother to me." He also added that both babies had their father's dark hair.
83-year-old Nick also quipped that his Hollwood film-star son should be counting his lucky stars being with someone like Amal!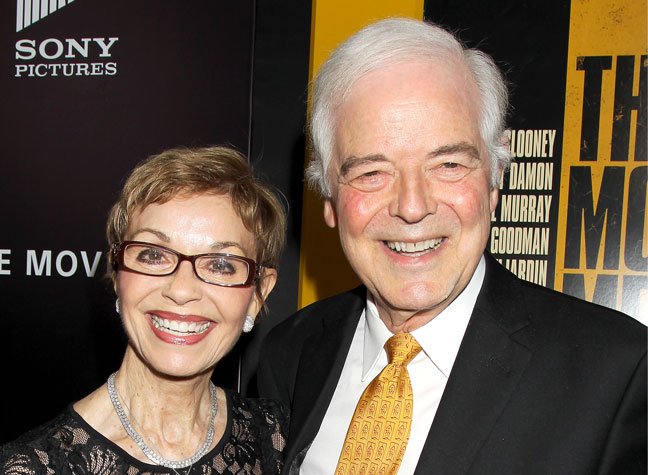 (Nick and Nina)
He said, "George will be an absolutely wonderful father, Amal will be – and already is – a magnificent mother. I'm constantly amazed by her. She is an incredible woman. George certainly married up."
Amal, 39,  gave birth at London's Chelsea and Westminster hospital, where they reportedly paid £8,520 for a private suite in the Kensington Wing, the same hospital where Cheryl (nee Tweedy) gave birth to baby Bear, her son with former One Direction star Liam Payne.
Amal's mother Baria Alamuddin was later spotted shopping in exclusive department stores in London – presumably collecting presents for the newly arrived bundles of joy.
She commented on the birth of her grandchildren, saying "We are over the moon. It was a beautiful delivery. The babies are beautiful and are doing well."
Amal's father, Ramzil Alamuddin, who lives in Beirut, also spoke up about his daughter's recent arrivals. He said, "They are in great health, all is perfect. I am very happy for them, they will be great parents."
Last week George missed out on a humanitarian event in Armenia in order to be with Amal, in case she gave birth.
The actor joked that if he'd missed the important occasion he wouldn't have been able to show his face at home.  He said, "I really would have been [in Yerevan] but if I came there and my wife had twins while I was there, I could never come home."
One of the first celebs to publicly congratulate the couple was Nicole Kidman, at this year's Glamour Women Of The Year Awards. She said, "Any time a baby is born, I'm like: 'Ahhh'. So two babies it's double 'ahhh'. They have the most joyful journey ahead."
From Woman & Home, our sister site